Brigantessa restaurant fires chef after staff revolt over antisemitic comment, social posts
Source:
Philly voice
Philadelphia, PA – Philadelphia, PA – Sydney Hanick, the chef de cuisine at South Philadelphia's Brigantessa was fired late Tuesday night after fellow restaurant workers exposed her apparent support for the Nazi atrocities of the Holocaust.
The East Passyunk Avenue restaurant tweeted Tuesday night that it had decided to part ways with a member of its management team due to her views on social media.
On Monday, an anonymous Twitter account using Flyers mascot Gritty as its avatar shared several screenshots of social media posts and comments attributed to Sydney Hanick, a chef with prior work experience at Fork and Will BYOB.
An anonymous employee's description of the complaint, shared in one of the images above, explains that Hanick allegedly made the offensive comment at work several weeks ago. She allegedly stated that "the Nazis were more efficient at killing people than the confederate."
The statement claims several Brigantessa employees who heard the comment told Hanick it was inappropriate and contacted the restaurant's owners, who also own Le Virtu, to notify them of Hanick's remarks. The owners initially informed all employees that they would not part ways with Hanick, according to the anonymous employee.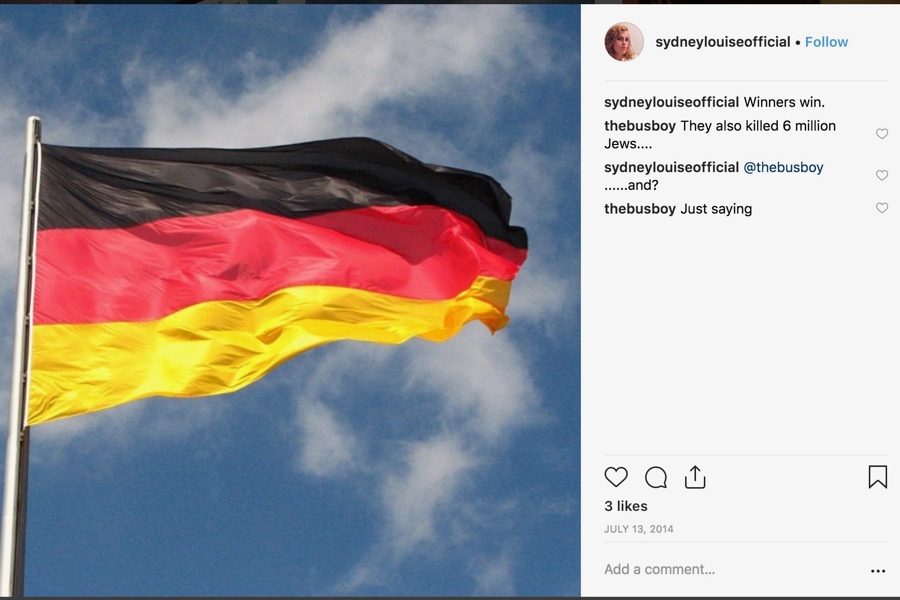 Attached Instagram comments from Hanick's account say "nationalsozialismus had its positive ideals" and offer a disturbing response to another user's comment about victims of the Holocaust.
"Winners win," Hanick's account captioned a 2014 post picturing the German flag.
"They also killed 6 million Jews," said a commenter.
"…….and?" Hanick's account answered.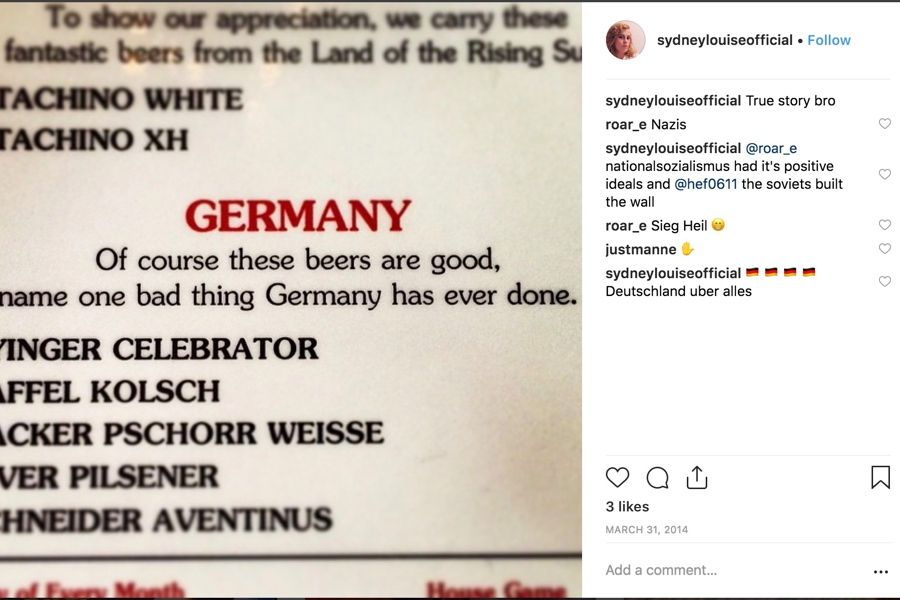 The anonymous employee was critical of the owners' initial response to complaints by the restaurant's staff and noted Brigantessa has hosted events for Philadelphia's LGBTQ community and has otherwise embraced a welcoming atmosphere to people of all backgrounds.
"It is amazing to me to see people who say they have such far left politics support and employ a person who openly says things supporting the Nazis," the anonymous employee wrote. "This wasn't the first troubling thing that she said but it was the worst that I've heard and the last straw for me."
The incident at Brigantessa comes just weeks after Oh! Shea's pub fired a cook for posting pro-Hitler messages on Facebook.
Hanick's Instagram account was not longer active as of Wednesday.
A voicemail left at Brigantessa for further comment on Wednesday morning was not immediately returned.
After seeing undeniable evidence that someone in a management capacity in our organization gave voice to abhorrent views on social media, we have terminated that person - it's best to know the truth, no matter how unpleasant.

— Brigantessa (@Brigantessa_EPA) October 24, 2018