Labour councillor suspended over Facebook post calling for execution of 'Talmud Jews'
Source:
TheJC
Bognor Regis – A Labour councillor has been suspended from the party over a post on his Facebook that called for the execution of "Talmud Jews" and shared a video which claimed it was a "Jewish ritual" to "drink blood and suck baby's dick."
Cllr Damien Enticott, who sits on Bognor Regis Town Council in Sussex, appeared to share the antisemitic video, which had been published by a group calling itself "black pride".
A comment posted along with the video said: "This is done by Talmud Jews. Talmud Jews are parasites!
"They also believe any child over the age of three years old that isn't a Jew should be treated like a parasite, they believe it is ok to even rape that child because it is worthless. To treat a non Jew decently means you are as bad of them. All Talmuds need executing!"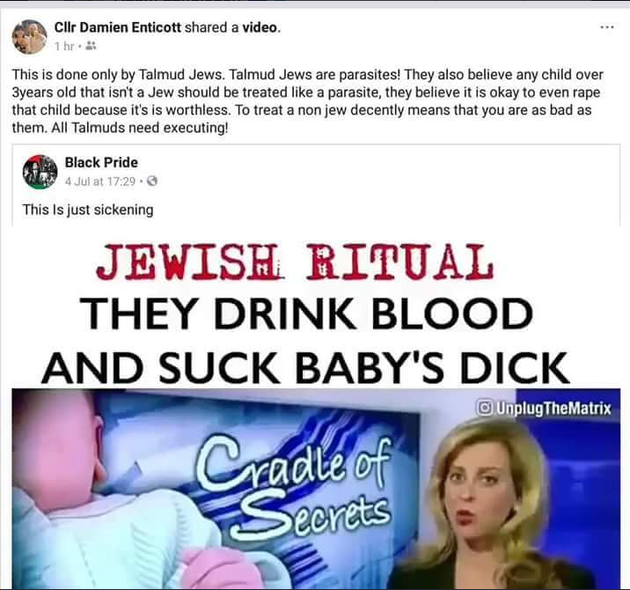 Speaking to the JC, Cllr Enticott denied that he had been the one who had posted the offensive video and statement on his Facebook account, saying: "The statement that was made wasn't by myself. I don't actually share antisemitic views at all."
He said he lived in a shared house and had taken his passwords off the computer. He also said he would be releasing a further statement in due course.
A Labour party spokesperson said: "The Labour Party takes all complaints of antisemitism extremely seriously and we are committed to challenging and campaigning against it in all its forms.
"Complaints about antisemitism are fully investigated in line with our rules and procedures and any appropriate disciplinary action is taken."