Italian hotel tells Israeli customers 'Jews never satisfied'
Source:
ynet
Certosa di Pavia – A Jewish couple that accidentally gave an Italian hotel a low rating received in response anti-Semitic mail, saying that "Jews are never satisfied" and that they should not complain if Nazis return to Europe.
Bella and Boris Nudelman, together with two other couples, stayed in the Hotel Ristorante Italia in the Certosa di Pavia, and had only positive feedback after their one-night stay.
"The hotel was really nice and we enjoyed it there. When we left, we received from the booking website "Booking.com" a request to rate our stay there. It was at the same time as we were driving and by accident, without paying attention, I gave the hotel five out of ten stars," Bella said.
A short while later, the hotel responded with hateful outrage to the rating.
"You Jews are never satisfied! Don't complain when Nazis and fascists return to Europe. There is a reason for it … You!" the abusive email written in English said.

"It was simply terrible to receive the email," Bella said. "If the hotel had called us to ask why we had given them five stars, we would have explained that it was a mistake. But to say that Jews are guilty for what happens in Europe? That's way too far."
After returning to Israel, the couple sent a letter to Booking.com, attached the abusive email from the hotel and asked that it be removed from its list of accomodation.
After reviewing the email, the bookings website agreed to remove the Hotel Ristorante Italia from its listing.
"We do not tolerate discrimination of this kind," a statement from Booking.com said. "The moment that we were informed about the things that were said to our customers by one of the places of accommodation, we looked into the matter and closed access to the hotel on our website."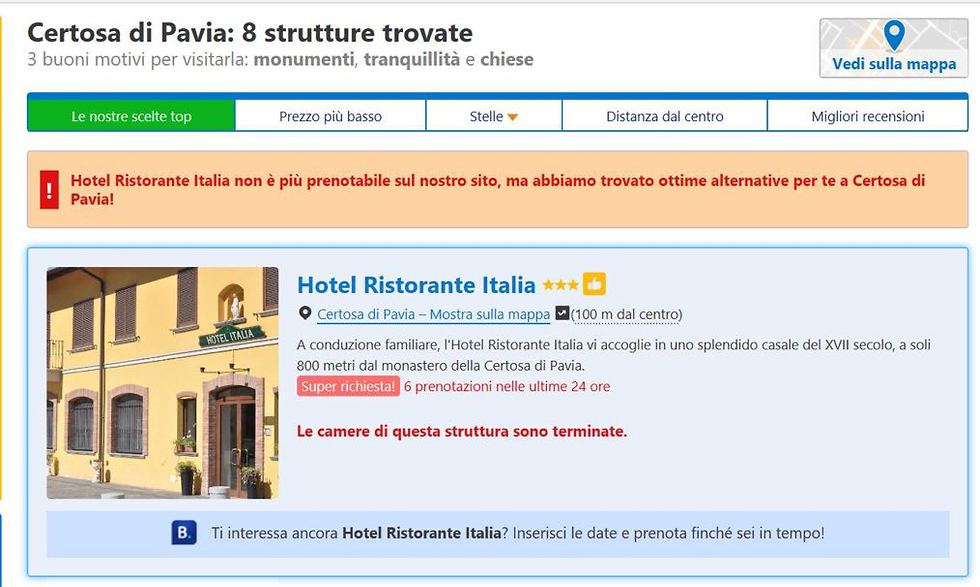 Hotel Ristorante Italia also followed up with a statement of its own, apologizing for the incident.
"We take extremely seriously the disgraceful behavior by the worker who sent the email, and he has been suspended from his job," the statement said.
"Nothing justifies his email, regardless of what rating was given by the customer on the bookings website. We will soon contact the Israeli customers and ask that they forgive us and think of a way to compensate them."