British Muslim group denounces antisemitism in full page newspaper ad
Source: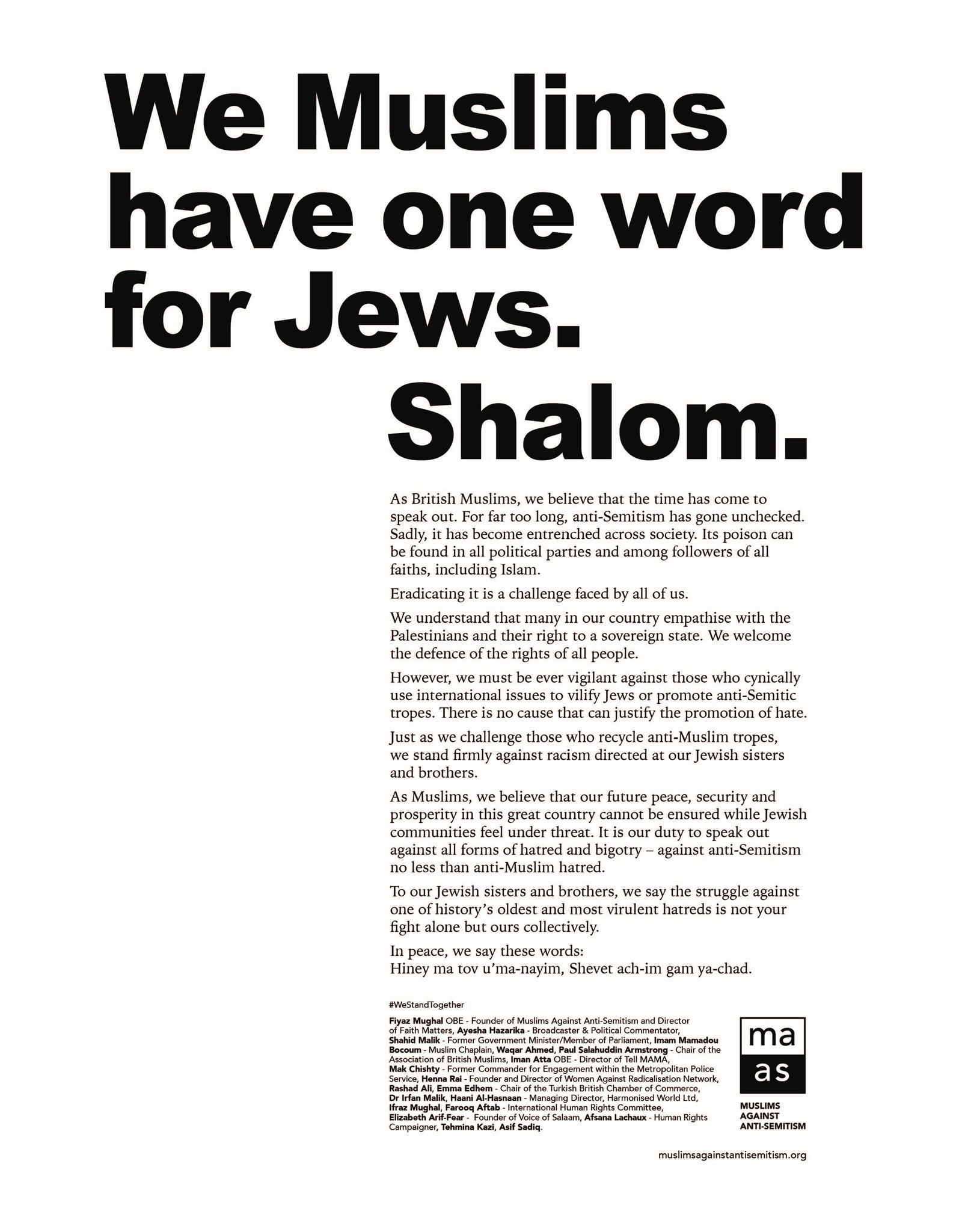 Muslim leaders took out a full-page ad in a major British newspaper condemning antisemitism.
"We understand that many in our country empathize with the Palestinians and their right to a sovereign state," said the ad Thursday in the Telegraph, a national broadsheet, and signed by a group called Muslims Against Antisemitism. "However, we must be ever vigilant against those who cynically use international issues to vilify Jews or promote antisemitic tropes."
The ad was signed by the leaders of groups including Faith Matters, a Muslim anti-extremism group; the Association of British Muslims, and Tell MAMA, a clearinghouse for complaints about anti-Muslim attacks.
The Board of Deputies of British Jews praised the ad on Twitter. "Incredible solidarity – a full-page ad by Muslim sisters & brothers in today's @Telegraph," it said. "Thank you. Together we will defeat the twin evils of antisemitism & anti-Muslim hate."
Last week, the Board of Deputies had joined Tell MAMA in condemning Islamaphobia, when that group on May 8 rolled out a report on anti-Muslim bias in Britain
.
ארגון מוסלמי בבריטניה מגנה את האנטישמיות במודעה על פני עמוד שלם בעיתון
מנהיגים מוסלמים פרסמו מודעה על פני עמוד שלם בעיתון בריטי בה הם מגנים את האנטישמיות.
"אנחנו מבינים שאנשים רבים במדינה שלנו מזדהים עם הפלסטינים ועם הזכות שלהם למדינה עצמאית אבל עלינו להיות ערניים לאלה אשר משתמשים בעניינים בינלאומיים על מנת להשמיץ את היהודים ולקדם רעיונות אנטישמיים". טקסט זה פורסם בעיתון
The Telegraph
וחתמה עליו ארגון בשם "מוסלמים נגד אנטישמיות".
המודעה נחתמה על ידי מנהיגי ארגונים כולל
Faith matters
, ארגון מוסלמית המתנגדת לקיצוניות; איגוד המוסלמים בבריטניה ו-
Tell Mama
, מוקד להגשת תלונות על תקיפות נגד מוסלמים.
הנהלת ארגון יהדות בריטניה בירכה בטוויטר על המודעה. "סולידריות בלתי יאומנת – מודעה על פני עמוד שלם מצד אחינו ואחיותינו המוסלמים בטלגרף". "תודה. ביחד נביס את הרעות התאומות, האנטישמיות והשנאה האנטי מוסלמית".