Fascism and antisemitism
By R.G Price
Fascism is recognized to have first been officially developed by Benito Mussolini, who came to power in Italy in 1922. To sum up fascism in one word would be to say "anti-liberalism".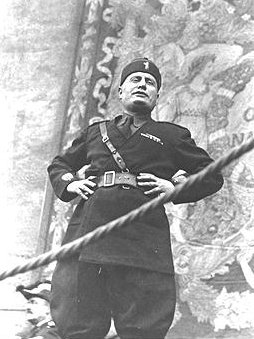 Fascism is much more than that however, but understanding fascism is in fact one of the most important elements in understanding the 20th century and our modern world.
In 1932 Mussolini declared that the 20th century would be the "Fascist century" by stating:
"If it is admitted that the nineteenth century has been the century of Socialism, Liberalism and Democracy, it does not follow that the twentieth must also be the century of Liberalism, Socialism and Democracy. Political doctrines pass; peoples remain. It is to be expected that this century may be that of authority, a century of the "Right," a Fascist century."



Mussolini and his followers believed that this ideology was the best hope for "saving Western Civilization".
What, then, is fascism exactly?
In order to understand fascism it is first important to understand the climate of the early 20th century in which fascism took shape.
Fascism was born out of the ruins of World War I, in which Mussolini served. Fascism was immediately reactionary to its surroundings in Europe, which was dominated by the two established powers of Britain and France. Britain and France were seen as economically dominant but decaying imperial civilizations who were imposing their hegemony on the rest of Europe. At the same time, Russia had recently undergone its Bolshevik Revolution and was supporting Marxist revolutionary activity and ideology throughout Europe. All of the countries in which fascism took root were countries that had significant socialist movements. Fascism was the opposition to those socialist movements. Fascism further recognized the finance capitalism of the United States and Britain as a destructive and corrupting force on "Western Culture" and as a threat to the still developing European countries, such as Italy, Germany and Ireland.
So, this was the environment in which fascism formed; in an environment where the "lesser" countries of Europe felt trapped between the established powers of international capital and the powers of revolutionary Marxism.